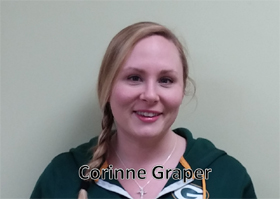 Connection Ministry and Faith Sharing

Corinne Graper Is the liaison to our Connections Ministry and our Faith Sharing Committee

Connections Ministry is responsible for finding volunteers as greeters and hosts each Sunday. They also work as a committee to develop processes and procedures for being sure everyone feels welcome when they come to church. And also a process to insure you have someone to contact if you have questions or concerns.
We schedule new member classes and there is also a newcomers coffee hour to allow new people to get a chance to meet the staff.
Ann McCarthy is the leader of this committee. Click Here if you would like to learn more.
The Faith Sharing committee works to find ways for St Thomas to go out into the community meet our neighbors. Bring the church to the community.