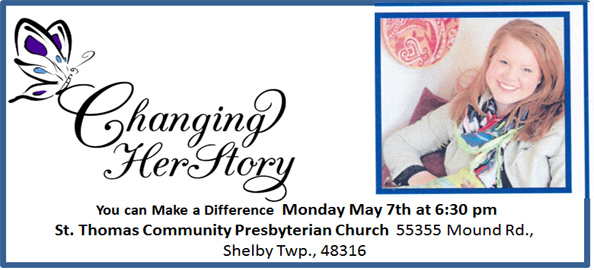 May 7th 2018 Meeting
~Changing HerStory~
SpringTea and Biannual Meeting ~May 7th 2018 at 6:30 pm
Changing HerStory is a women's micro-lending group that pools our funds to make loans to women in extreme poverty, helping them to improve their lives and the lives of their families and communities!
About Our Guest Speaker:
Rebecca Smith, Founder & Owner of Better Life Bags
a missional business that changes lives in the heart of Detroit, Michigan.
By employing women from our community who have barriers to employment, Better Life Bags provides the opportunity for them to excel at a skill,
provide for their families,
and create meaningful, long-lasting friendships.
Designed by you and created by our seamstresses, every hand-sewn bag becomes a work of LOVE.
You are invited to come to this event whether you are a member or not! The meetings are open to the entire community Join us and find out more!
Feel free to bring friends -- you can register online at www.stthomaspres.org,
or click on this link: OnLine Registration
or you could call St. Thomas Community Presbyterian Church at 586-781-3025

Return to Changing HerStory Main Page Click Here