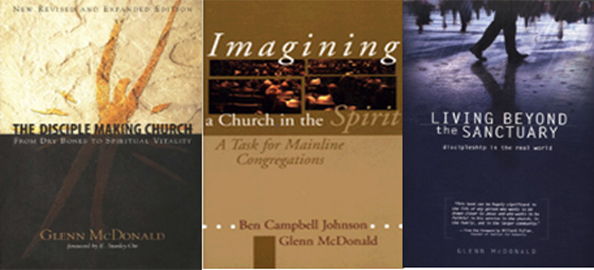 Glenn McDonald
Glenn McDonald was the senior pastor of a large and growing congregation in the suburbs of Indianapolis, a congregation he helped organize in 1983. He is also the author of several books on Discipleship and the Church

The Disciple Making Church: From Dry Bones to Spiritual Vitality

How long would it take for people who walk into your church to realize their need for Jesus and learn what to do about it? McDonald's congregation grappled with that question---and transformed their church! Offering six practices and marks of discipleship, he helps you grow in Christlikeness and encourage one another in the Lord.



Imagining a Church in the Spirit: A Task for Mainline Congregations



Everyone has an opinion about why mainline churches are declining, but few provide concrete, workable ideas to help stem the tide. As an academic, Johnson effectively couples his suggestions with McDonald's pastoral experience. Together, they seek to re-energize the body of Christ with new vision.



Living Beyond The Sanctuary



Living Beyond The Sanctuary describes the trail that God has set before us--a comprehensive way of existence that includes clear benchmarks for what it means to become like Jesus--whether we're stuck in traffic, closing a business deal, peeling potatoes, or tucking our children into bed. Following Jesus through all of life's ordinary moments means shaping our hearts and minds around his two greatest commands: Loving God (through Godward practices) and loving others (by means of "Outward" practices).



To register and pay online for the event just click

HERE

You can also register by calling the church office 586-781-3025 or by e-mail at saint.thomas1@comcast.net

If you need child care to allow you to attend the workshop please call the office. We will coordinate a solution so you can attend.